Location used to be a top concern for companies when launching new projects. Then came the Internet and the world suddenly became a smaller place. Today, industry is more concerned about price and quality than where products will be made. For software development, IT outsourcing to Ukraine increasingly makes sense for companies across the globe.
The $5 billion Ukraine IT industry did not happen overnight. It reflects the determination of young and talented developers who have persevered the the face of adversity. While war, political unrest, and a shaky economy have made growing the IT industry an uphill battle, Ukraine's tech talent has made done more with their degrees than hang them on the wall.
The numbers speak for themselves:
Ukraine's IT sector has grown from 0.06% of the GDP to 3.3% since 2013 — a 50 fold increase.
At the current growth rate, Ukraine's IT sector will soon become number one export of the nation.
In this article, we will look at some of the reasons Ukraine's IT industry has attracted international business. But first, a brief look at the history and concept of outsourcing may be in order.
The term outsourcing, or offshore development, has meant different things through the years. When referring to software development, it used to mean low-budget development solutions when product quality was less important than development cost. While many Asian-based providers continue to operate according to that model, Ukraine's outsourcing industry has taken a different approach.
Thanks to the modern, quality-focused development processes of Ukraine and certain other countries, offshore development is now a reputable and viable alternative to in-house development of software and IT products. Currently, 30% of major IT projects are produced offshore, and the trend toward higher percentages shows no signs of slowing.
Today, outsourcing offers some distinct advantages compared with building your own development team stateside.
[toc]
Benefits of IT Outsourcing to Ukraine
High quality
Competitive rates
Fast turnaround
Project flexibility
No staff recruitment (for certain models)
Employee benefits not necessary (for certain models)
Although you can find developers for hire in nearly every region of the world, Ukrainian developers may be the best option for your next project. Let's see why.
Why Ukrainian IT Industry is Hot
Ukraine offers a unique combination of assets that make it ideally suited to IT development. Here are seven of the top reasons more and more companies are turning here for high quality, affordable, flexible software solutions.
Top-Notch Educational System
Education is top priority in Ukraine. With 79% of citizens having completed higher education, and 57% of IT specialists holding STEM (science, technology, engineering, math) degrees, the country is swimming in tech talent.
Ukraine's 402 universities graduate nearly 40,000 graduates per year — more than Japan, the Netherlands, Sweden, Norway, or Belgium.
The abundance of STEM graduates helps keep development cost down, while ensuring that your project will be based on cutting-edge technologies.
Skill Diversity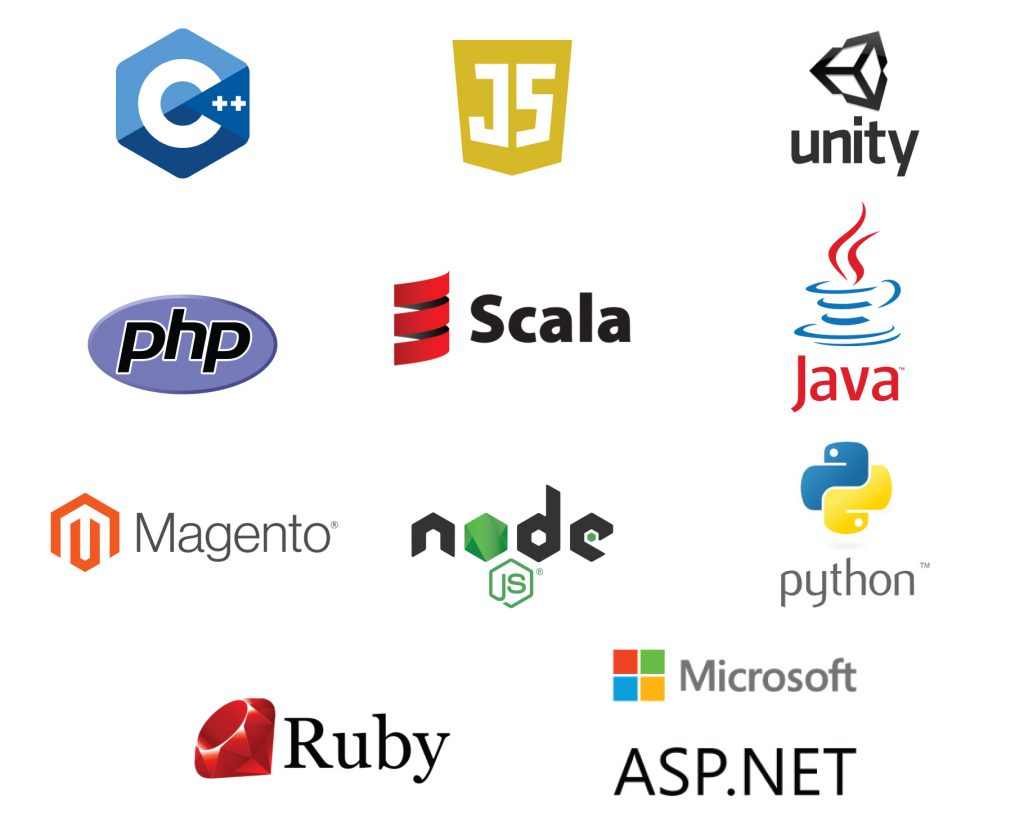 Ukrainian technologists are among the most diverse of any in the world. More than 90,000 tech workers are skilled in languages and platforms such as the following:
C++
JavaScript
Unity3D
PHP
Scala
Java
Magento
Node.js
Python
Ruby
ASP.Net
The country ranks #1 in the number of Unity3D game developers and C++ engineers.
Regardless of what technologies your project may require, there is no shortage of qualified engineers available to create a solution.
Ukrainians use their skills to deliver a wide range of services, including software engineering, web development, software testing, SEO services, cloud and blockchain development, and app development, to name but a few.
Fertile Environment for Tech Startups
Not only are the majority of Ukrainians educated, they are also ambitious. The strong educational system has created fertile ground for tech startups. To date, more than 2,000 international-level startups have been launched from Ukraine, including: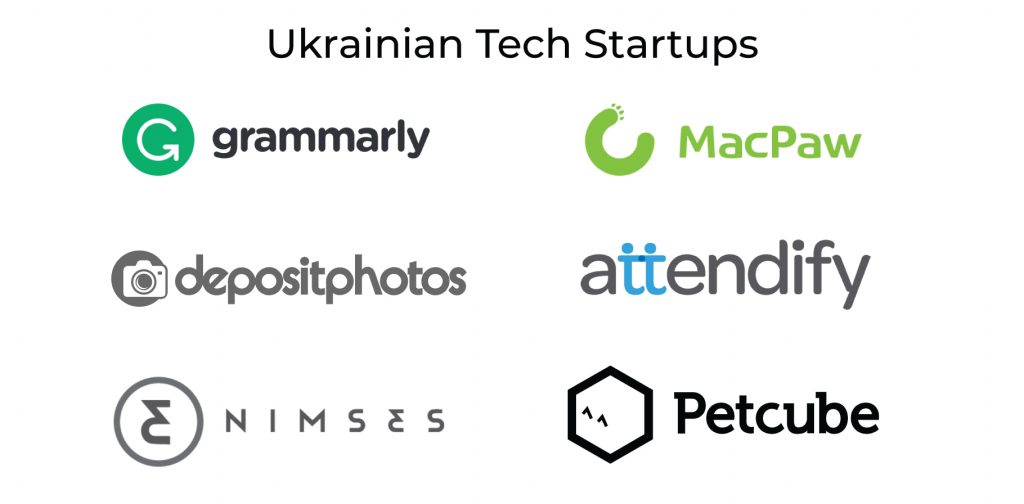 Many Ukraine tech startups go on to become world-renowned providers of software and IT products.
Culture Compatibility
Finding a suitable development company requires more than talented programmers, it requires relationships. The ability to understand the client's needs, to communicate throughout the project, and to relate to persons from other cultures is crucial for any outsource company. Fortunately, a high percentage of IT specialists speak English.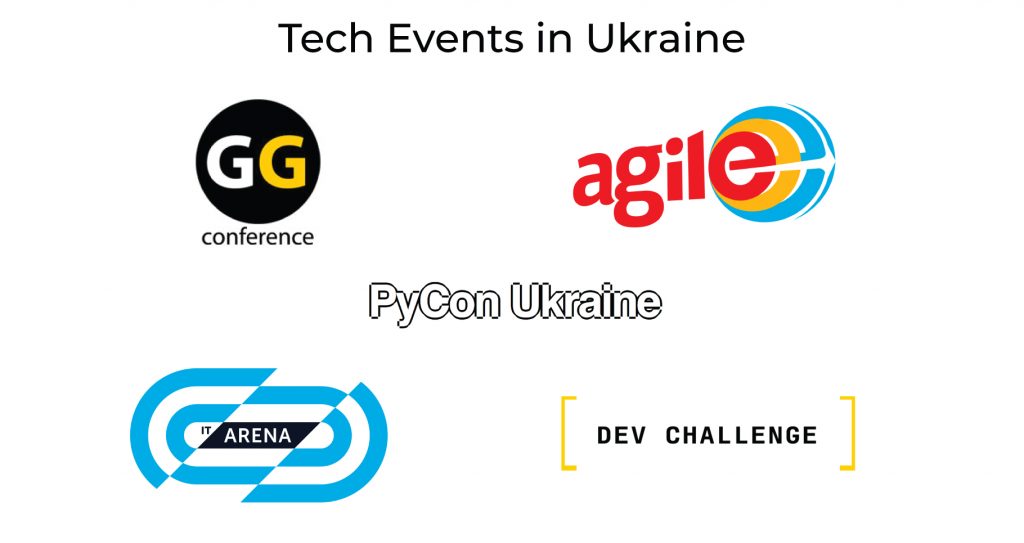 The country also hosts some of the largest tech events in Europe, including:
Convenient Time Zone
Ukraine is seven hours ahead of the U.S. east coast, and one to two hours ahead of most European countries, including the U.K. This provides certain advantages that may not be fully realized until you work with a Ukrainian developer. Since their day probably begins before yours does, they will already have progress to report on your daily Skype call or email.
Since Ukraine and Israel share the same time zone, there are no delays in workflow between the two countries. This is a particular advantage when R&D facilities and offices are separated.
Best Price/Quality Ratio
According to Gartner, Ukraine ranks first in Eastern Europe in terms of price/quality ratio. This evaluation speaks volumes if you are interested in not only the best price, but the highest quality.
To put this into perspective, the average hourly rate for a Ukrainian Scala developer is roughly $18 to $23 per hour, compared with $60 to $100 or more for a developer in the U.S. and based on a 40-hour work week.
Even though the rate for Ukrainian developers is lower than those in the West, quality is not compromised. Only by providing reliable, robust software solutions at competitive prices has the Ukrainian outsource industry achieved its leadership role among other nations.
Improving Economy & Political Environment
While fears of unrest and economic instability keep some companies from looking to Ukraine for IT or software solutions, there is enough reason to still give the country a serious look.
Undeniably, military conflict with its largest trading partner, government corruption, inflation that topped 60%, and a ballooning fiscal deficit have left their mark, and the nation's struggles are far from over. Even so, perhaps no country has done more to curtail corruption and put its fiscal house in order than Ukraine.
The International Monetary Fund (IMF) indicates that the Ukrainian economy can transition from stabilization to more rapid growth, if the country follows through on its plans for reform.
Unemployment is steadily declining, and the Ukrainian economy is enjoying a steady flow of investment dollars and euros, thanks to its IT industry.
As far as political unrest is concerned, the country has taken tremendous strides in eliminating government corruption.
Even though tensions with Russia remain high, military conflict between the two is now limited to occasional skirmishes along a short section of the border with Crimea.
Over all, the country is on the upswing, with a mature infrastructure and a robust economic outlook. Despite its struggles, Ukraine is very much open for business.
Choosing the Right Outsource Company
Regardless of which country you chose for development of your next project, picking the right outsourcing service provider requires careful planning and research. Even in Ukraine, not all software companies are the same. Here are some steps you can take to ensure that the developer you hire is the best fit for the job.
Define Your Needs
Before you can identify a development company that can meet your needs, you must know what those needs are. This does not mean you must have every detail of your project spelled out on paper, with detailed wireframes ready to hand over. But you need to know what you want the developer to create for you, and how much of the work you want them to do, versus how much (if any) of the work you will perform.
To begin, you must be clear in your market objective. What market need do you intend to fill?
A blockchain for a niche industry?
A cloud-based connected-car solution?
A Bitcoin interface for an ecommerce platform?
A custom-designed fintech solution to serve your clients?
A branded entertainment media distribution product?
Once you have clearly identified what your product will do, you need to decide what features and specifications you want it to include. Again, you do not need to be overly detailed, as the developer will suggest to you what might work for your application. A good way to gather this information is to examine competing products and note those features that seem to be necessary. You also want to identify additional functionality that you can offer, and which will make your product superior.
Research Prospective Outsource Providers
There are a number of Ukrainian companies in and outside Ukraine that offer outsource services. Some are new startups and may not be prepared to take on a large project, and some are sizeable organizations that may not be interested in your project unless it is substantial.
Inquire of each prospective company to determine their history. Are they void of references because they just opened, or can they refer you to a few clients for whom they have done work in the past? If you are dealing with a Ukrainian company that has been in business for several years, chances are they will have a slew of clients from around the world.
Of course, investigate the company website. Do their verticals include your need? If yours is an automotive project and the developer is primarily a game developer, you cannot expect them to be a good match.
Finally, make sure that the developer you select follows the Agile development methodology. This ensures that your project will provide the transparency, flexibility, and quality you expect.
Pick the Pricing Model That is Right for You
Professional outsource companies generally offer four types of pricing packages:
Fixed Price project
Dedicated R&D Team
Captive Unit model
Build-Operate-Transfer or so called BOT model
Fixed Price Model
The Fixed Price outsourcing model offers you the assurance of a fixed priced, while still accommodating a reasonable number of change requests. Since a reputable development team will utilize the Agile development model, development is made in small increments, so making changes is easy.
This model is best when you have a fixed budget and cannot afford any surprises.
Dedicated Team
As the name implies, the Dedicated Team model means your team works for you exclusively, rather than being shared with other of the developer's clients. The advantage of this model is that the team you hire grows in knowledge of your products, and is always there for aftermarket support or for upgrades.
Captive Unit Model
Under Captive Unit, the developer provides the R&D facility and the staff. They handle the HR, legal, administrative, and financial aspects of running your team and the R&D facility. You are billed on a price-plus basis, which means you pay the developers expenses plus a fixed markup.
BOT Outsourcing (Build-Operate-Transfer)
The Build-Operate-Transfer outsourcing model is for the company that needs to get their project up and running as soon as possible, with lower risk and lower cost than some models. Under this agreement, the developer identifies an existing R&D facility and team in Western Europe that is best suited for taking on your project. Since the facility and team are already in operation, they can begin your project without much delay.
Since many Ukrainian software companies strive to offer world-class services, finding one that offers a good mix of pricing models should be easy.
Is Ukraine Right for Your Next Project?
The trend toward outsourcing reflects a shrinking global marketplace. For many companies, it also represents a change from the traditional business model, with some distinct advantages. The Ukrainian IT industry has leveraged its world-class higher education system to meet the needs of this growing market.
If high quality, excellent project management, and competitive pricing are criteria for your next project, perhaps you should give Ukraine developers a good, hard look.
Listen to the audio version of this article: