When considering IT outsourcing, one of the first decisions and most important questions to ask is "which country?" The answer has a massive impact on any project, from pricing to process, but the best answer may already be staring decision-makers in the eye.
Ukraine might not be the first country to come to mind when it comes to software development, but it should be.
The truth is, many of the world's most successful businesses are already using software development companies in Ukraine to achieve their business goals.
If you're looking for skilled, talented, and creative developers at an affordable price, here are 21 reasons why you should look to Ukraine. And this only scratches the surface.
Software Companies in Ukraine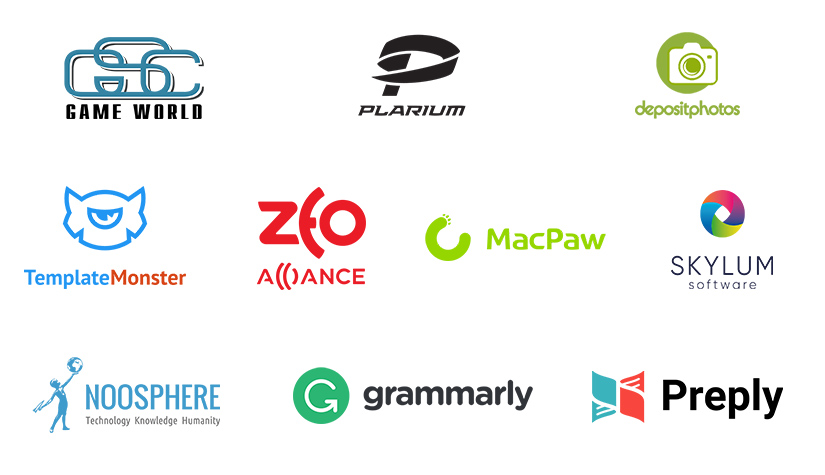 Chances are, you use Ukrainian-built software already, whether you know it or not. Some of the most popular apps and websites in the world were developed in Ukraine, by outsourcing firms, by dedicated R&D offices owned by global corporations, and by native Ukrainian companies.
Here are some of the most notable examples. How many have you used or played?
GSC Game World
The Kiev-based company, also known as Transavision Ltd., has been a major name in the video games vertical since their foundation in 1995. GSC is best known for the cult classic S.T.A.L.K.E.R. and its sequels, though their Cossacks series also boasts a devoted fanbase.
GSC is the poster child of the Eastern European games development community, with many of the region's most successful developers tracing their roots back to it.
Plarium
Founded in 2009 in Israel, Plarium today maintains offices in Ukraine, Israel, Russia, the UK, and the US. The company is a highly successful games developer, focusing on social and mobile-based titles.
Its most successful releases include Soldiers, Inc., Vikings: War of Clans, and Stormfall: Rise of Balur, though they have also dipped their toe into licensed properties with Terminator Genisys: Future War.
Depositphotos
Although the well-known stock photography depository is today based in the United States, it originally called Kiev home. The service curates a selection of over 60 million stock photos, vector images, and video clips for royalty-free licensing.
Depositphotos has grown rapidly since securing $3mm in venture capital in 2011, and became a disruptor in the stock photography industry with its introduction of Clashot, a website and mobile app that allows anyone to sell their photos on the Depositphotos platform.
TemplateMonster
TemplateMonster, the WordPress templates giant is one of the best examples of the power of outsourcing. A refugee of fighting in the nation of Georgia, CEO David Braun moved to Ukraine, and then to the United States. In 2002, he founded the company, leveraged entirely on his contacts in Ukraine. With his remote team, he sold $70,000 in stock art and web assets in their first week of operation.
Today, the company is one of the largest names in web design support services, with over 400 employees and contractors around the world.
Noosphere Ventures
A venture capital firm formed in 2012, Noosphere Ventures counts among its successes well-known brands like ASKfm and Circle Medical. Although it is based in Silicon Valley, Noosphere is the brainchild of serial entrepreneur and investor Max Polyakov.
Dr. Polyakov is a native of Ukraine, who before moving to the United States founded IT-Ukraine, Maxymiser Ltd., and Cupid Plc. Cupid found success offering a broad range of online dating sites to serve different demographics, and its revenue allowed Polyakov to found Noosphere.
ZEO Alliance
Based in a sprawling, modern office in Kiev, ZEO was founded in 2003 by two Technical University of Ukraine students. In 2009, they launched their first product, the macOS utility suite MacKeeper. Despite some controversy regarding its marketing and performance, the software has been very successful for ZEO, with over 25 million installations worldwide.
The early success allowed ZEO to expand, and the ZEO Alliance now comprises four distinct software companies offering a wide range of products and services, including MegaBackup and AdwareBuster.
Grammarly
Users of the web's top writing-enhancement system might be surprised that the software was first developed entirely in Ukraine. Far more than a spell-checker, Grammarly analyzes English-language text for grammar, style, and readability. Text is assigned an overall quality score, and the user receives actionable suggestions to make their writing shine.
Grammarly was originally developed in 2009 by Ukrainian developers Alex Shevchenko and Max Lytvyn, and has since expanded to employ developers in Kiev, San Francisco, and New York.
MacPaw
Based in San Francisco and Kiev, MacPaw is one of the best-known developers of utilities and system performance software for MacOS. Their flagship product Clean My Mac was first released in 2009, and is still used today to free up disk space by securely deleting unnecessary system files, caches, and other detritus of day-to-day operations.
In addition to Clean My Mac, MacPaw offers a full suite of applications to manage compressed files, music collections, passwords, and more.
Preply
Preply is an innovative marketplace for online and in-home language tutors, where native speakers of over two dozen languages are matched up with students. The company is headquartered in Boston but was originally founded in Kiev.
Today, it employs development talent in Ukraine, London, and the US to continue to grow its platform. Tutors are freelancer contractors recruited from 185 countries, serving students all across the world.
Skylum
Developer of several popular photo editing platforms, Skylum was founded in Ukraine in 2008. It is now headquartered in Bellevue, Washington, but still maintains a large development office in Kiev.
One of Skylum's earliest and best-known products is the iOS app Vintagio, which won multiple awards for its sleek production and easy-to-use interface, allowing video enthusiasts to create vintage-style content with ease.
Since relocating its headquarters to the US in 2013, Skylum has expanded its product offering with Intensify, a full-fledged photo editing suite for MacOS, and Luminar, a direct competitor to Adobe Lightroom.
Top IT Outsourcing Companies in Ukraine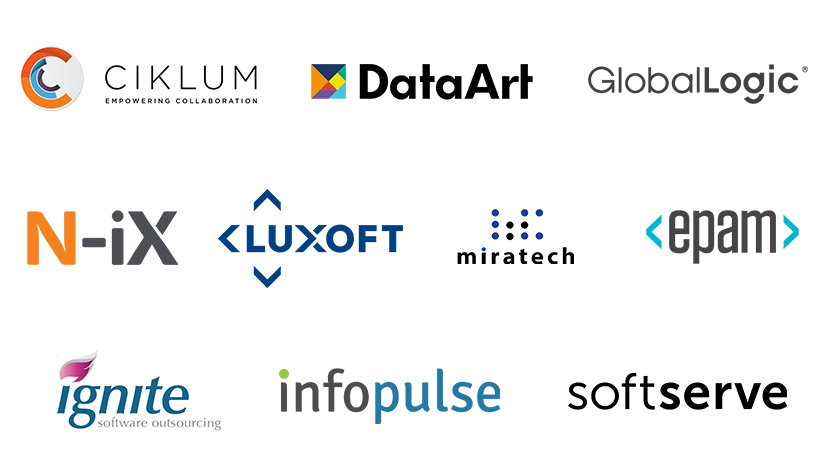 Ukraine has a well-earned reputation as one of the top IT outsourcing exporters in the world. Companies in every size and industry, from solopreneurs with big ideas, to the largest corporations, rely on Ukrainian software developers to make their vision a reality.
If you're looking to leverage Ukrainian outsourcing for your own business goals, this list is a great place to start your search.
EPAM
EPAM is one of the oldest IT outsourcing companies in Eastern Europe, yet still one of the most relevant in the modern software engineering industry. Founded in 1993 in Belarus, EPAM underwent massive expansion during the mid-2000s, starting with a new office in Hungary. In 2006, they opened offices in the UK, Russia, Germany, and Ukraine.
Today, EPAM maintains its global headquarters in Pennsylvania, USA, and works with hundreds of clients each year in nine verticals, including fintech, insurance, and retail.
SoftServe
Headquartered in the US and Ukraine, SoftServe has a history of leveraging bleeding-edge technology to realize its clients' business goals. Proficient in blockchain, Internet of Things, augmented reality, and more, the firm counts some famous names among its clients, from Panasonic to Nestlé.
To support the IT industry and ensure a steady supply of skilled manpower, SoftServe even maintains an educational arm. The SoftServe University IT Academy provides tech training to qualified candidates free of charge.
Luxoft
One of the largest players the software development space, Luxoft employs more than 13,000 people in 41 offices across the world. The multiple award-winning company is publicly traded on the NYSE, and its high-profile clients include Boeing, Harman and Ford Motor Company.
Although Luxoft is today headquartered in Switzerland, most of its senior management made their homes in Ukraine until 2014. Three large development offices still reside in the country, in Odessa, Dnipropetrovsk, and Kiev.
GlobalLogic
Valued at over $2bn USD in 2018, GlobalLogic, Inc. is another giant in the industry. Their clients include Qualcomm, for whom GlobalLogic developed an ultrasonic fingerprint recognition device, mobile app development for Reuters, and retail technologies for Nokia.
The company is based in Israel, and like many of its fellow makes heavy use of Ukrainian software development talent. In addition to their four offices in Ukraine, GlobalLogic maintains engineering centers and other operations in India, Argentina, Poland, and five other nations.
Ciklum
Ciklum was founded in 2002 in Kiev, Ukraine, where the company is still headquartered. The recipient of numerous awards and recognitions, including the #1 spot in 2011's Global Services Compendium, Ciklum has maintained a stellar reputation for providing top-tier project-based services for clients like Google, Intel, and Lenovo.
Like some of its fellow Ukrainian IT firms, Ciklum is an active participant in growing the nation's pool of software developers. The company is one of the founders of the Brain Basket Foundation, which offers scholarships to student programmers, and operates its own IT training program called BIONIC University.
Infopulse
Specializing in infrastructure and application management, Infopulse has become a major player in the global IT space since its founding in 1991. The company holds the distinction of consistent leadership for over 27 years, with founders Aleksey Sigov and Andrey Anissimov still serving as President and CEO from the home office in Ukraine.
Most of Infopulse's clients are located in Europe, with notable partnerships including Bosch, British American Tobacco, and Vodafone. The company strives to be a socially conscious business, engaging in charity programs benefiting people with Down Syndrome, disabled veterans, and more.
DataArt
Headquartered in New York but maintaining offices all over the world, DataArt is one of the most respected IT outsourcing companies in the business. Their Ukrainian developers had a direct hand in projects for clients as diverse as Nasdaq and Apple, and continue to innovate in the field.
DataArt is structured as "a global network of technology services firms", and each office has some degree of autonomy in their day-to-day business. The offices in Ukraine are some of the most numerous, operating in six cities across the nation.
N-iX
With two offices in Ukraine and three more in Europe and the US, N-iX has been providing professional development and IT services in numerous industries for over 10 years. The company is especially adept at offering continued value to their clients, boasting an average client relationship time of 3-9 years.
N-iX is also proficient in a vast range of programming languages and technologies, with expertise in everything from game development in Unreal Engine or Unity, to mobile app development on iOS and Android, to Hybris SAP.
Miratech
Although Miratech is headquartered in New York, it was founded in Ukraine by graduates of the VM Glushkov Institute of Cybernetics. The executive management team still retains many of its original members, who have successfully grown the company to serve clients large and small in industries from healthcare to debt collection.
Through close partnerships with their clients and an adherence to Agile methodology, Miratech reports a 99% project success rate, 30-40% higher than the industry standard. Their strong track record has landed them clients like Samsung, Siemens, and Philips, and allowed them to expand to 12 cities in the US and Europe.
Ignite Outsourcing
Ignite Outsourcing was founded in 2006 and has quickly established themselves as a powerhouse in the IT outsourcing space. The company is a partnership between Ukrainian and Israeli IT leaders, and today employs more than 300 people in six offices around Europe.
Ignite places a special focus on the latest technologies and is adept at quickly mastering new developments across the tech space. Utilizing an Agile methodology, the company keeps clients involved and in the loop throughout the entire development process, ensuring that projects never stray from the original vision.
Notable Startups of Ukraine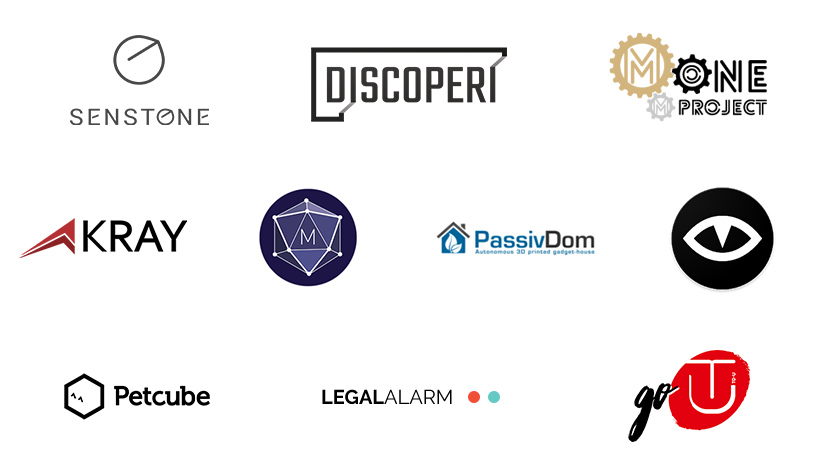 No list of software companies in Ukraine would be complete without a mention of the country's amazing startups. The plethora of development talent has led to some truly innovative products and services, many of which are already making their mark worldwide.
PassivDom
3D printing and the tiny house movement seem like such a natural fit, that it's a wonder it took until 2016 for a company to combine them. PassivDom, based entirely in Ukraine, uses 3D printing to create fully autonomous, self-powered homes. They use advanced engineering techniques to use up to 20 times less energy than a traditional house, and comes equipped with solar panels, an air-condensing water system, and air quality filters to control carbon dioxide and other emissions.
In true startup style, PassivDom also offers a "Zombie Apocalypse" edition that incorporates armor plating, a security alarm, additional storage, and a Bible.
Legal Alarm
The world is an uncertain place these days, but Legal Alarm is working to make an unthinkable disaster a little more bearable. The app, available for iOS and Android, is a new twist on "panic button" apps that have been a help to college students for years.
Rather than calling the police or campus security, Legal Alarm places a call to an attorney, who will travel to your location and help represent the user in case of an unlawful arrest. Police abuse is a problem in some parts of the world, and swift access to legal aid can mean the difference between a small misunderstanding and a night in jail.
Legal Alarm is currently available only in Ukraine but plans to expand to serve new markets.
Gamers Net
Software to analyze and improve sports performance is nothing new, but this application may be the first such project to focus entirely on a single computer game. Esports are big business now, and the developers at Gamers Net are leveraging their popularity by creating Mobalytics, a personal performance analytics package for League of Legends players.
Using eight criteria like aggression and teamplay, Mobalytics assigns each player a GPI, or Gamer Performance Index. This is a general ranking of the player as they compare to their peers, like the ELO rating system used in high-level chess.
Mobalytics is brand-new and still in open beta, but is already receiving rave reviews from players. The company plans to support other games in future.
Petcube
Coming in ahead of the craze for wireless pet cameras, Petcube was founded in 2012 by a trio of Ukrainian tech pioneers. The high-quality camera offers 1080p streaming video with night vision and sound, allowing pet owners to check in on their furry friends at any time, 24/7.
Differentiating Petcube from its competitors, the WiFi camera offers two-way audio, giving the user the chance to speak to their loved ones through the mobile app, and several interactive tools. The Petcube can dispense treats on command, and incorporates a low-powered laser to give kitty some playtime even if the owner can't be at home.
Feel VR
Virtual reality is a still-growing field, and there's still plenty of room for tech innovations in the space. Feel VR, currently raising funds on Indiegogo to support their team in Ukraine, is targeted squarely at the racing simulation genre of VR games.
The company offers a collection of driving controllers, physical accessories that are intended to work in tandem with a VR headset to provide a fully immersive experience. The steering wheel and pedals use professional-grade construction and cutting-edge force feedback technology to simulate the feel of hydraulics and road resistance.
Wearing a headset, it's nearly impossible to tell the difference between using the Feel VR peripherals and driving a real car.
Senstone
Another crowdfunded project, Senstone is spearheaded by Ukranian designer Nazar Fedorchuk. The mobile productivity aid shattered its Kickstarter target, raising over $300,000 on a $50,000 goal.
Designed to bring the old-fashioned tape recorder into the modern age, Senstone is a sleek black-and-chrome disc that easily clips to a collar or sleeve. The device works with or without a paired phone, and starts recording audio with a simple tap, just like the Star Trek communicator that inspired it. When connected to Wifi, Senstone uploads its data to the cloud, processing it all through advanced speech-to-text routines to create tagged, searchable, organized notes.
Kray Technologies
Drones are one of the most transformative technologies to emerge in the last ten years. Autonomous aerial vehicles have a stunning range of applications from military to entertainment, but Ukrainian startup Kray has hit upon a unique niche market: Agriculture.
Kray drones serve the same purpose as the crop-dusting planes of old, patrolling agricultural fields from above to monitor for problems and spray fertilizer or pesticide. By eliminating the human pilot and replacing the plane with a compact, custom-designed autonomous aircraft, Kray can drastically reduce the time and financial investment required for modern crop protection.
MMOne
Although the best-known applications for virtual reality have been in home use, there is a burgeoning market in the commercial sector, as well. MMOne, founded and based in Ukraine, has developed a simulation chair that can greatly enhance any virtual experience.
Suspended in the air from a fixed platform, the chair can rock, shake, and move as required by a VR environment. It creates a fantastic illusion of sitting in the cockpit of a plane, car, rollercoaster, spaceship, or any other vehicle.
Although not yet a household name, MMOne made waves in the industry early on, partnering with Ubisoft to create a special VR version of Trackmania 2 for the 2015 Paris Games Conference.
Discoperi
Banking on the future of traffic safety lying in cloud computing, Discoperi is currently developing Eye, an advanced road analytics system that analyzes the behavior of cars on the road, both individually and in aggregate.
Eye works with an extensive network of traffic cameras to spot safety violations and other disruptive behavior and alert the authorities. In addition, it uses machine learning techniques to predict potential violations before they occur, allowing police resources to be more efficiently distributed around a city.
The company is based in Madrid, Spain, with development in Ukraine.
Go To-U
As electric cars continue to increase in market share, a new industry is developing to keep them moving. Charging stations are slowly becoming ubiquitous at malls, hotels, and even apartments, and the companies that supply and maintain those stations stand to benefit greatly.
Go To-U is one such company, and they take an innovative approach. Rather than charge drivers by time or charge percentage, Go To-U stations are completely free to use. Instead, the stations act as advertising opportunities for the businesses that install them, encouraging drivers to come and explore the store, restaurant, or cinema where the station is installed.
After all, they won't be going anywhere until their car is fueled up. Go To-U is available across Ukraine.
The Bottom Line
If your business already outsources or outstaffs to Ukraine, then you're well-aware of the massive benefits to be realized. If you're not on board yet, perhaps it's time to take a close look.
The industry's massive success is only the beginning, and Ukraine is just getting started in IT outsourcing. The potential for growth is enormous, and more young Ukrainians than ever are choosing education and careers in tech. Now is the perfect time to see what it's all about, and how outsourcing to Ukraine can supercharge your development while giving your costs a healthy trim.