Insurance is an enormous industry. Aside from the thousands of agencies in the US alone, there are a bewildering array of insurance software development companies, all vying to support them in their business.
If you're responsible for the tech behind an agency, then it's a good idea to familiarize yourself with the software options out there.
In this list, we'll look at some of the largest and most popular off-the-shelf products, as well as some insurance tech companies who can help create a unique solution, just for you.
Strategic Insurance Software

Web: https://sisware.com/
SIS is the developer of Partner XE, one of the most commonly used software solutions in the insurance space.
The suite is designed for agencies of any size, allowing them to manage customer data quickly and easily. Quotes and contracts can be generated on the fly and with minimal keystrokes, allowing agents to maximize their face-to-face time with clients.
Partner XE is highly customizable, allowing for employees to personalize their workflows. It interfaces well with Outlook for scheduling and emails, and features a mobile app.
Like many products on this list, Partner XE is a cloud-based SaaS solution. Agencies pay a subscription fee to use the program.
Although there is a recurring cost, this eliminates the need for time-consuming maintenance and updates, as SIS themselves can maintain the program on their servers.
Surefyre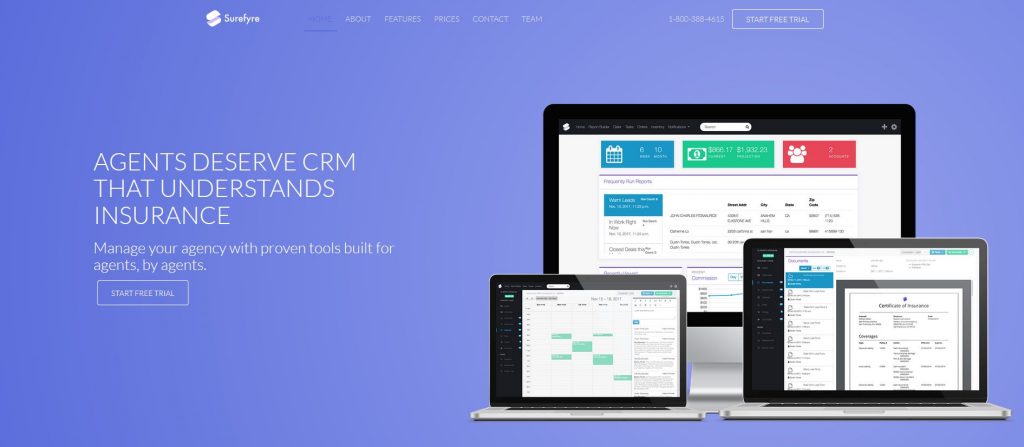 Another cloud-based package, Surefyre is a full-featured CRM suite designed for carriers of property, life, casualty, and health insurance.
The program includes front- and back-office features such as customer data storage, commission tracking, generation of contracts and quotes, scheduling, and messaging. It incorporates multichannel communication features, including social media hooks.
The wide feature set of the program works to its advantage. For example, contracts can be automatically customized based on customer data, pulled from the client relationship database.
For agents and sales reps, the progress dashboard will help keep tabs on monthly commissions and goals, as well as commissions generated by third-party agents and marketing initiatives.
At the same time, management will appreciate the automatic workflow engine, which steps agents through the process of onboarding a client, from document creation to transmitting policy details.
AgencyBloc

Web: https://www.agencybloc.com/
AgencyBloc is laser-focused on agencies for life and health insurance. The cloud-based SaaS package offers a wide variety of reporting options, helping business owners optimize their commissions, marketing, and products.
The developer touts its 360-degree view of client accounts, collecting all relevant information about each customer in one place.
From initial contact through ongoing policy maintenance, agents and office staff can view a customer's insurance documents, contact data, agency communications, and more, all in one place.
Secure file storage supports scanned images as well as digitally created documents, allowing for signed policies and other papers to be kept safe, secure, and organized.
AgencyBloc is ideal for smaller insurance companies or startups, with scalable pricing options ranging from just a few agents, to dozens or hundreds.
HawkSoft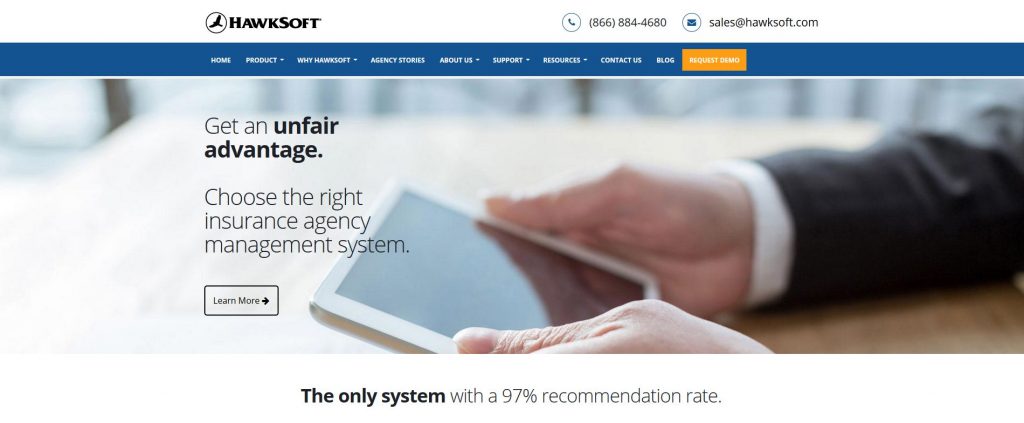 Web: https://www.hawksoft.com/
Targeted at small independent agencies, HawkSoft emphasizes an easy interface and plenty of platform integrations.
Able to interface with QuickBooks, e-signature vendors, carriers, and even some telephony systems, HawkSoft offers everything an agency needs to get off the ground.
Unlike many of its competitors, HawkSoft is offered in both SaaS and local installation varieties. Insurance startups will appreciate the ability to avoid a recurring fee, if they have the budget for the initial purchase.
Companies of all sizes will benefit from the software's drag-and-drop interface, as well as the tech support offered via phone, online chat, or onsite technician.
Applied Systems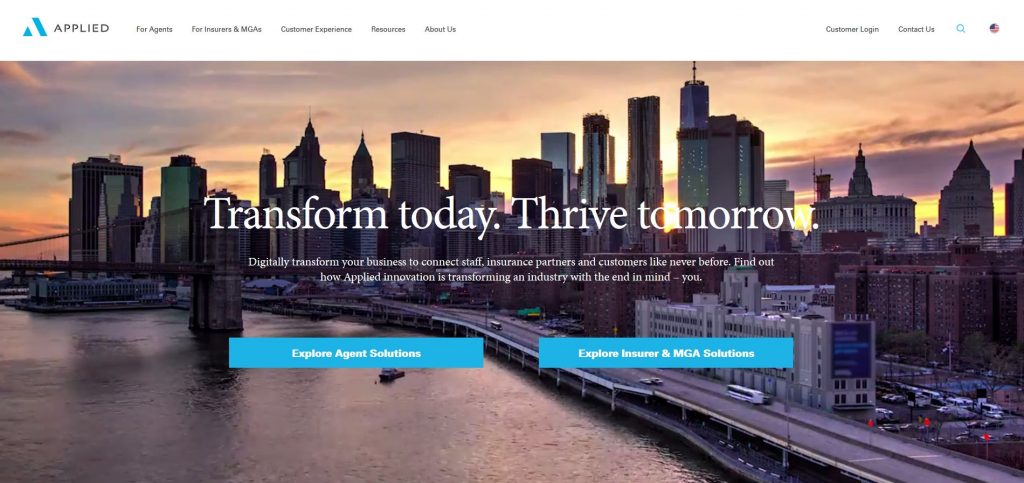 Web: https://www1.appliedsystems.com/
Rather than cover every aspect of an agency's operations, the flagship product of AS focuses only on quotes. Applied Rater is very popular in the industry for its smooth, attractive interface, powerful features for generating proposals, and customizability.
Applied Rater can integrate into an agency website to allow prospective customers to generate their own quotes, or into backend management systems for agents to do the same.
The software even integrates with LexisNexis, allowing for verification of vehicle and residential information for prospective clients.
All of this is automatically packaged up into professional proposals, with a variety of templates available. The agency need only print and mail, or send as a .pdf.
Adaptik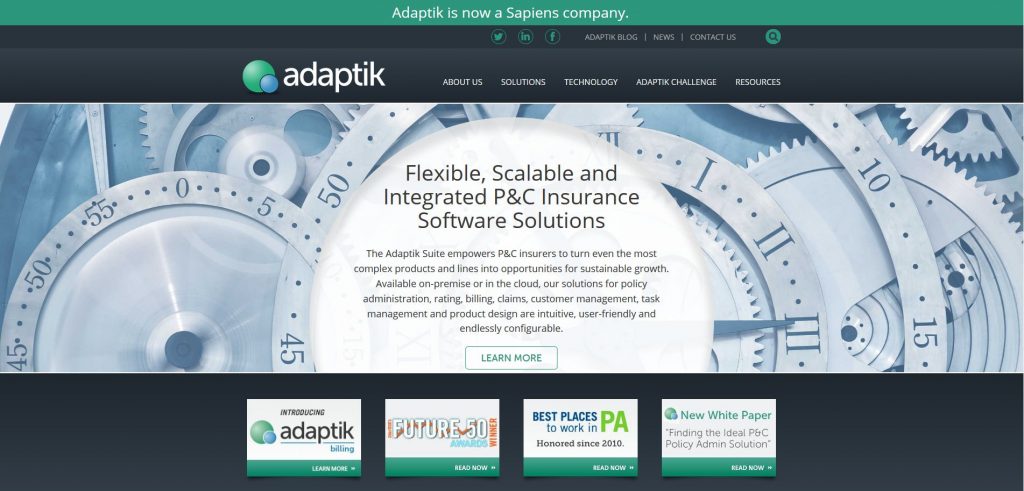 Web: https://adaptik.com/
Specializing in solutions for property and casualty insurance, Adaptik and its eponymous product Adaptik Suite is available in both on-premise and cloud varieties.
The software is an all-in-one management solution, offering a way to handle everything from quotes and claims to administration and sales.
The system is expandable and customizable with pre-built templates for common products, and can be easily updated to keep up with regulatory changes.
Adaptik Suite includes a full CRM system, allowing agents and office staff to see all of a customer's important information at a glance, including contact history, their current policies, and more.
Like most other major offerings in the space, Adaptik includes a self-service customer portal, allowing clients to handle information changes and other routine operations without employee intervention.
Insly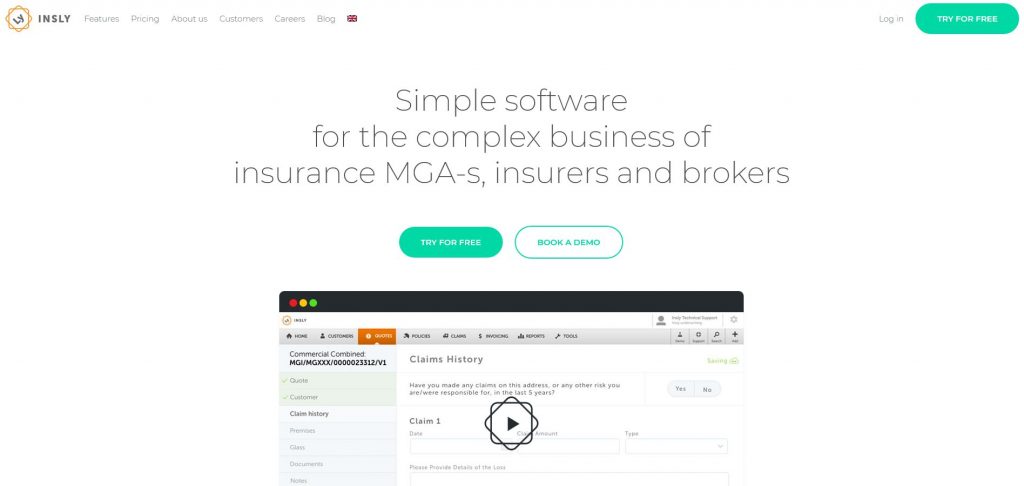 Web: https://insly.com/
Unlike many of its competitors, Insly sports a clean, modern design. Agents and brokers will enjoy the intuitive interface and sleek look of the software, while business owners will appreciate its modular construction.
Insly can be customized based on the specific needs of each individual insurance business, adding or removing features as needed. At its most complex, it can serve as the backbone of an office, creating quotes, calculating premiums, and interacting with carriers and vendors.
The developer is also one of the more forward-thinking entries on this list, embracing the current revolution in customer-focused design.
Insly is built from the ground up with self-service in mind. Out of the box, it allows prospective clients to generate their own quotes, as well as manage their accounts, file and track claims, and more.
The software also integrates with PayPal and a host of other online payment processors, supporting multiple currencies, installment plans, and interfaces with popular accounting software.
ISI Enterprise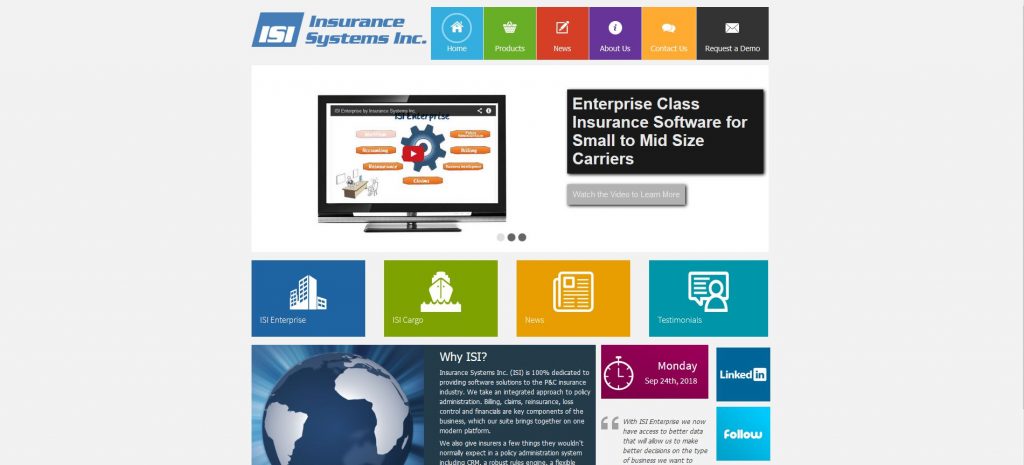 Web: http://insurancesystems.com/
Unlike most commercially available software packages, ISI Enterprise is designed for use by carriers, rather than agencies. Its features are meant for constructing and maintaining policies, rather than selling them to end-users.
Agencies and insurance tech startups should look elsewhere.
With extensive accounting and analytics modules, ISI hopes to replace most functions of a carrier's office. Offices already heavily invested in SAP or other accounting solutions may want to disregard those features.
For policies and claims management, however, the suite is at the top of the pile. The software requires some training to use but is immensely powerful and customizable in the right hands, if light on ultra-modern features like blockchain integration.
ISI Enterprise is built for dedicated servers, rather than SaaS applications. However, it offers remote access features for employees and client agencies.
Chetu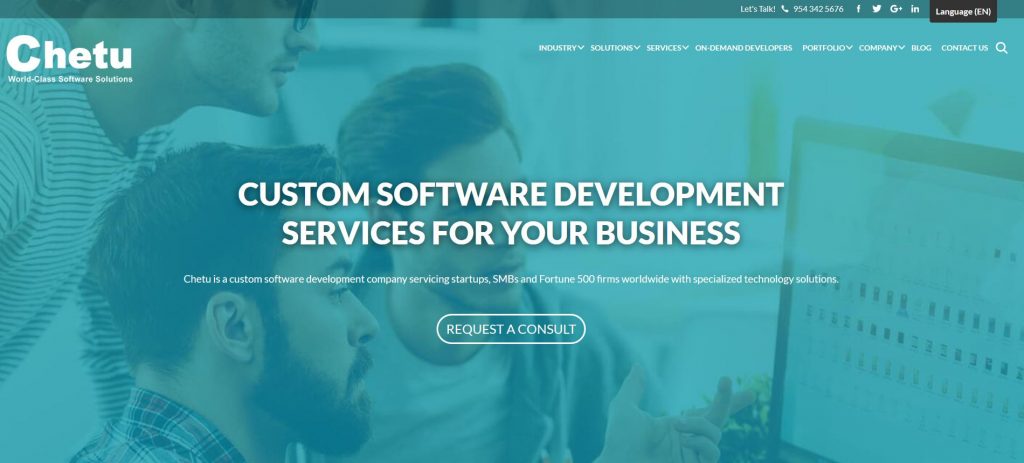 Like Ignite, Chetu is a software development house rather than an off-the-shelf product. The company creates customized solutions for companies in a variety of industries, from agriculture to transportation, and insurance in between.
For insurance, the company is expert in regulatory standards required by the industry, including ACORD and NAIC. Their solutions include mobile apps for end users, as well as quote management, rate calculation, and secure document management.
Unlike some of its competition, the company's website does not mention some of the more transformative new technologies that are sweeping the industry.
Blockchain, for example, promises to change the way people think about insurance, whether they are on the buying or selling end of the equation. It's not mentioned among Chetu's features for insurance.
EZLynx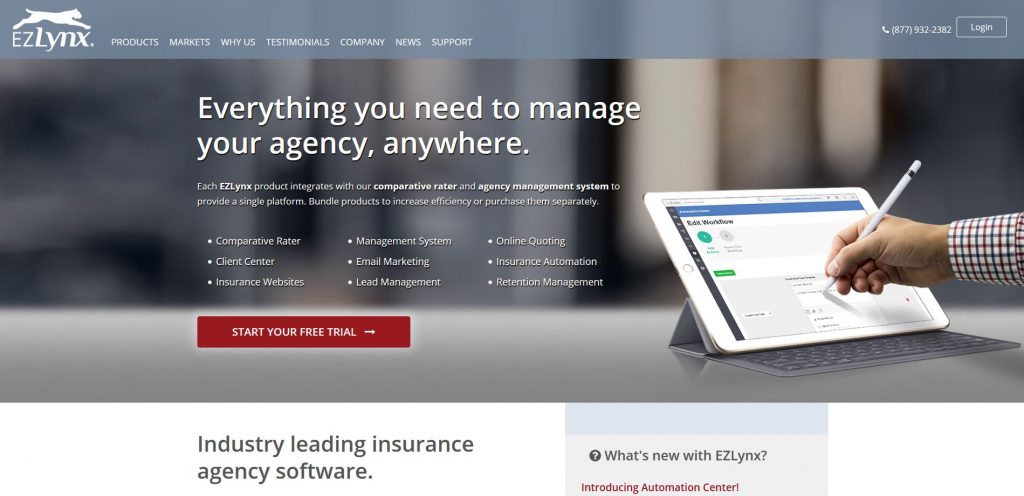 EZLynx takes a modular approach to insurance software development. All their products, from Rating Engine's real-time quote generator, to Client Center's sophisticated CRM tools, can be used separately or bundled together.
Companies willing to shell out for the top-tier Agency Suites Denali package will find much to love. EZLynx has created a well-designed interface with plenty of features for every facet of an agency.
In addition to the insurance-specific features, the suite includes email and text marketing, Google Analytics integration, and even hooks for Facebook Messenger.
EZLynx might be as close as one can come to a fully customized bespoke software application in an off-the-shelf product. The level of modularity is amazing, and it's possible for the suite to fit any size company.
Is the steep recurring fee a savings over commissioning a custom program from an overseas development house?
That's up for debate.
Ignite
Web: https://igniteoutsourcing.com/
Rather than offering an off-the-shelf insurance software package, Ignite works with clients to create custom solutions tailored to their individual needs.
The company is a talent-rich, multinational development house, with six facilities located across Europe and Israel. Founded and led by Israeli tech innovator Aviram Eisenberg, Ignite boasts over 150 successful projects.
Ignite specializes on the intersection between cutting-edge tech and beautiful customer experiences, using an Agile methodology to ensure that projects meet their clients' vision every step of the way.
They're more than comfortable with the very latest technologies in insurance, including blockchain, AI, and big data analytics.
If your company is looking for an expertly designed insurance management solution, or if your company offers IT services to insurance agencies, then Ignite is well worth a look. There's a lot to be said for a unique, bespoke application.
Important Decisions
A new back-end software suite is a large investment. Not just in money, but in time. Training, data migration, and ramp-up as the office works out the kinks in its new tools are important factors to consider.
Therefore, it's crucial to get it right. Few businesses can afford to change their digital backbone twice in the same fiscal year. Taking the time up front to research, question, consult, and take demos of the various solutions on offer will pay off in the long run.
This list of insurance software companies only scratches the surface of what's out there, though it does include the most popular options.
For most businesses, however, a customized insurance software suite might be the best option. It's the only way to truly ensure that the result meets your unique needs and strategic goals.
The best part?
In today's world of outsourcing, it's far less expensive than you might think, even for top-tier talent.
[no_toc]