Crowds of people at this year ICE summit on February 2nd-4th are a vivid example of constantly rising interest to the industry and growing scale of event. Nine sectors of exhibition attract thousands of visitors coming to this big show around the world. Some of them came here with a demand; others to show their own product, but all of them create the latest trends in the industry of gaming. Ignite's CEO – Aviram Eisenberg gives us a 360 degree look on what is top of mind this year:
"For me, as a veteran of the gambling industry and specifically of the ICE conference, it is always interesting to compare it to previous ICE conferences and identify current and future trends.
So if in ICE 2015 the big buzz was around lottery apps, in ICE 2016 it was already visible that there is a consolidation in the lottery niche: only big players now survive the competitive pressure of descending industry wave, yet all of them are still seeking for their sweet spot.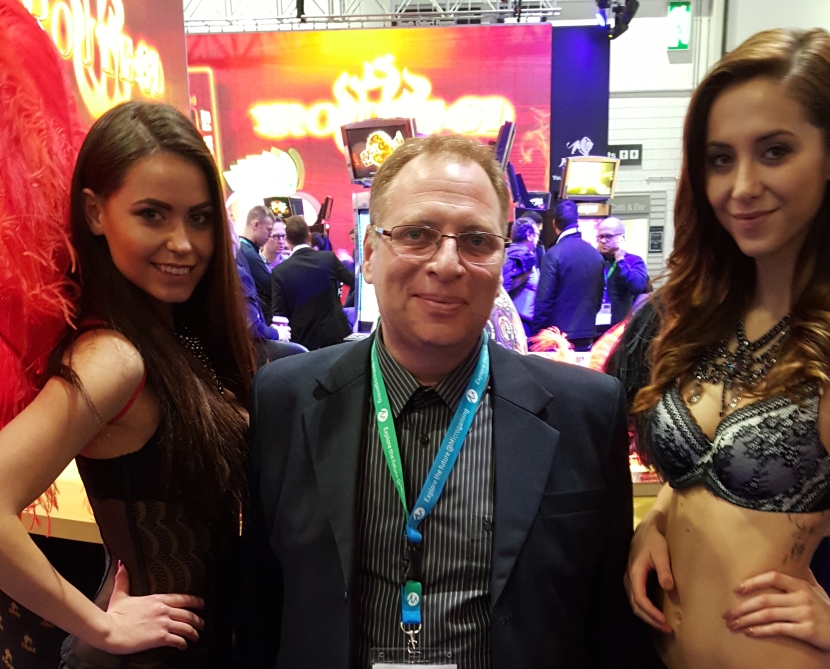 Of course, the main buzz in ICE 2016 was around Virtual Reality (VR) and Augmented Reality (AR). Microgaming launched a pilot and placed a booth in the middle of the conference, testing the audience reaction to their first VR and AR apps.
On the AR platform they published an App that can display 3D characters and animation out of ordinary gaming cards. It was just a proof of concept, not really a game, but it was a souvenir people stood in line to get home – that's a smart move!
The second pilot was more interesting – an interactive VR roulette. Here Microgaming put some more effort to give people a sense of a virtual reality gambling. A player could place a bet by just looking on the right spot of the roulette table and moving his hand to place the chips. This was a much more sophisticated example that required (like most VR apps do) image processing capabilities. The user experience was almost there, but inaccuracy in identifying the hands movements correctly to place the chips, and quite poor graphics, still made it feel a little too rough. Nevertheless, it seems to be a good step in a right direction!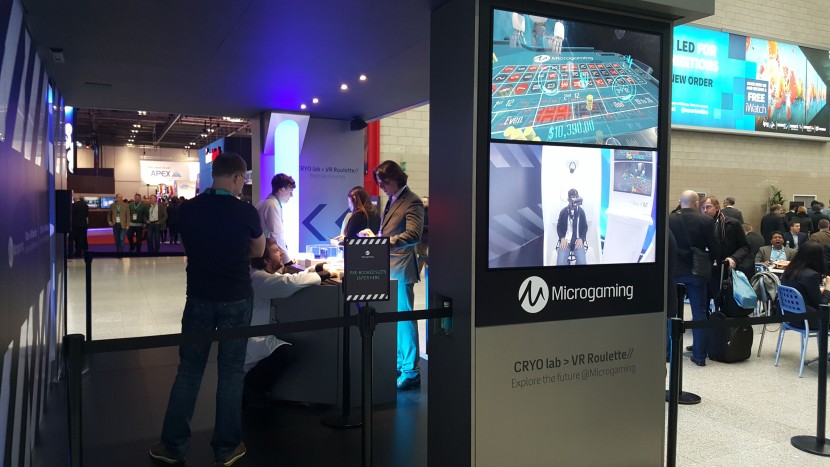 Of course, even outside the Microgaming booth the buzz today is really all around VR apps. With the huge investment of Samsung in Samsung Gear and Facebook into the Oculus rift it's not a surprise: the hardware is ready, now the gaming and gambling verticals are looking for the right VR apps to start with.
Yet, while in the gaming world, you can already see actual implementation of VR games (everyone in the latest GamesCom was already wearing VR goggles of this or that kind), the gambling world is making it's first baby steps at ICE. Why?
Well, no one is sure yet how to make money out of it! On top of that – developing a VR app is not that easy. Reaching the right gaming experience in virtual reality is harder (the challenge is to create the feeling of presence in the game). Furthermore, there is usually a lot of algorithmic work around such games (e.g. image processing and speech recognition) which requires capabilities that gambling companies typically don't have."
Despite the current difficulties in VR implementation in gambling segment, it will develop and move forward. Here are some Aviram's assumptions on, what trends for VR and AR development are waiting for the industry in the nearest future:
Have a project in mind?
We are here to discuss
Contact us
Virtual sports games: combination of fantasy sports and VR – yet this business model suffers from regulation problems in many countries, but there is definitely a buzz around it.
VR versions of standard gambling games – this looks like a safer bet, but still no one is sure whether it will be just a passing trend or really a new revenue stream for the gambling vendors.
The safest bet in my opinion is the 360 degrees videos in the sports gambling vertical. This is a no brainer – use new technologies to shoot real sport events and allow the user to view them from any angle one wants and bet on them live. Considering this, it is no wonder why Intel recently bought Replay for 175 million dollars.