Case Study: a Network Monitoring System for Orbograph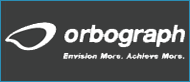 The Client: Orbograph is the leading developer of recognition solutions for the U.S. check processing market. Orbograph's technologies are in use at nearly 1000 institutions, processing millions of items each day. From powerful recognition tools to advanced Image Quality, Usability & Integrity Assurance solutions, Orbograph combines human & artificial intelligence to achieve "total automation."

The Challenge: Create an end-to-end Network Monitoring System (NMS) within half a year from conception to first installation to be distributed together with Orbograph's innovative Enterprise G6 solution.
The new NMS is part of Orbograph's Application Portal providing to its customers:
Exact status and real time alerts of all software components and hardware in the network.
Real-time Performance metrics dashboard of Orbograph's main product lines: Recognition, Image Quality, Fraud and APEX.
Archiving and post mortem analysis capabilities of historic transactions.
Remote administration of Orbograph's system components.
Seamless network discovery capabilities
Dynamic installation-free AJAX-style web-based interface powered by Flex technology.
Real time probes and agents perfectly integrated into Orbograph's new and legacy components.
To help them meet this extremely tight schedule, Orbograph turned to Ignite.

Our Role: Ignite assisted Orbograph by hooking up into Orbograph's R&D department to increase its capacity to meet the strict deadline. Orbograph brought its in-depth knowledge in the check processing vertical and provided Ignite with a detailed marketing requirements specification. Orbograph provided all the back end components, as well as constant involvement in the GUI design process. Ignite brought its vast experience in network management systems to derive the marketing requirements into technical specifications and constructed a distributed complex network management system with a usable and highly customizable user interface. Under Orbograph's tight management, a fully distributed team was established which included Orbograph's technical product manager in the US, Orbograph's UI manager and Orbograph's project manager .Working closely with them on customer premises, Ignite's onsite team included an offshore delivery manager, product architect, usability expert and graphic designer. Ignite's offshore development team was located in Russia and an offsite testing team worked in a second location in Israel. The project was managed using a distributed Agile development methodology with 2 weeks iterations. The product was completed on time for Orbograph's planned user conference and the first customer that Orbograph was committed to. By using Ignite's proven Agile fixed price engagement model, budget overruns due to change requests were less than 3% of total project cost.

Contact us and Fire up your software development with Ignite