The standard outsourced software development process is a black box. Once the work begins, you have no control over the process.
The key to efficient, outsourced software development -especially when conducted, offshore, is efficient knowledge transfer. This is a culture-based process (considered as informal or invisible) by which adaptive organizational knowledge that lie in people's heads is exchanged with others. The knowledge transfer works both ways at the beginning of the project – it is passed on from the customer to the vendor and when delivery stage begins its passed vice-versa from the vendor to the customer.
Agile development creates effective collaboration between the customer and the vendor, and results in an efficient knowledge transfer and better bottom-line achievements. This way, It is easier to make changes on the go and identify errors at early stages of the development process. There is much better overall control in terms of execution, budget and deadlines.
The Agile Revolution: Better Software Delivery
Agile methods have proven their effectiveness and are transforming the software industry. In the constantly changing world of R&D, Agile software development process is on the rise: It's based on methodologies where requirements and solutions evolve through collaboration between self-organizing, cross-functional teams. The agile concept promotes adaptive planning, evolutionary development and delivery. The time boxed iterative approach encourages rapid and flexible response to changes that occur. The agile framework promotes foreseen interactions throughout the development cycle.
Go Agile and Reap the Benefits
Ignite's Clear-Box Software Outsourcing methodology is based on a distributed agile development process. Clear communications, vertical development and setting short development cycles and frequent milestones ensure a lean and truly agile process.
Enables Clear communications
Our onsite and offshore teams have years of expertise in agile delivery. Our experts ensure optimal collaboration through proven tools and methodologies where clear communication between the customer site and the offshore development center are constantly maintained.
An Optimized Communication Platform
To ensure maximum clarity and greater productivity, Ignite uses several tools that when combined, create an optimized communication platform.
Ignite LightSpeed – A Cloud-based Agile Project Lifecycle Management solution (PLM) includes a set of Agile/Scrum reports that allows you to keep your finger on the pulse: Track your project's progress anytime and get real-time status through planning game summary, burn down charts, standup meetings summary and more.
Project Management Server with full-blown Continuous Integration (CI) system keeping your codebase unbreakable at any point in time, including automatic build system, unit testing, deployment and system-wide test automation phases
Wiki System
Video & Audio Conferencing system
Web Conferencing System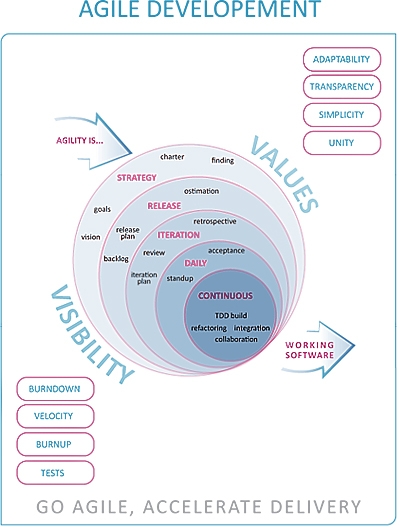 Vertical Development
Rather than developing milestones of your projects horizontally and only combining them at the end, we promote a more efficient method where they are divided into vertical segments and develop them one after another so you can witness your software come to life feature by feature. One of the key differences between Agile and traditional methods for software development is that the Agile methods focuses on vertical development versus horizontal development.
With horizontal development, you assign each developer to implement a certain layer in the system. Their job is to design and develop the layer and publish the interface so people working above them can call into that layer. The layers are only integrated at the end of the project.
In vertical development each developer has some features broken down into small use cases (called user stories) to implement in each iteration. The developer implements these stories vertically, implementing a slice through the UI layer, the business objects, and the persistence layer.
The significant benefit of this method is that each layer is only as complex as it needs to be for the stories that have been implemented until that point.
With hotizontal development, the integration of all layers is only done at the end of the project, it tends to be a lengthy process, which usually results in postponed delivery. Furthermore, the lack of intermediate integrations prevents the development team from presenting the feature during the lifetime of the project. With poor visibility and lack of customer feedback, horizontal development may easily lead to mistakes and misconceptions of the development team, which need to get ongoing inputs to ensure project's success, especially early on in the project.
With vertical slices, integration is performed incrementally and constantly. You always have a system that implements a certain functionality.
Simplicity, Adaptability and Rapid Delivery
Your project is constantly on track through maintaining short development cycles and frequent milestones. We deliver live sections of your software several times within a release so you can measure progress on the go. And it's easy to stay on top of your project's progress: During a development iteration we provide burn down charts that allow you to measure our performance – preplanned vs. delivered.
In addition, the frequent milestones methodology provides several windows of opportunity for changes (at the end of each development cycle and before igniting a new cycle), so that constant customization becomes an integral element in the development process.
To learn more how your R&D could go agile, contact us!